Tea & Toast with Butter Wakefield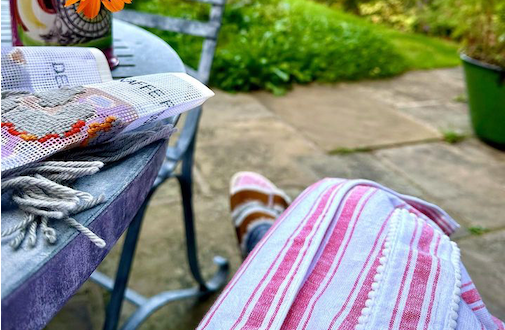 Of a weekend morning, it is always such a delight to see Butter Wakefield's Instagram post pop up. She is usually doing needlework on the garden bench with a coffee, or arranging garden flowers in a vase indoors. I was delighted when she agreed to feature in our Tea & Toast series. Butter is an award-winning Garden Designer based in London. She creates beautiful designs blending formal and wild in a wonderful way.
Tea or Coffee?
SUPER strong coffee with equal parts hot oat milk.
Marmalade or Jam? 
Marmalade with lashings of salted butter
Owl or Lark? 
Lark
Book or Newspaper? 
Book, but I do adore the Saturday FT!
Pyjamas or Nightshirt? 
Pyjamas, but I love a nightshirt too.  
Along with your gorgeous garden pics – it is also so wonderful to see you enjoying an alfresco coffee with your needlework in hand. Tell us a little about your morning routine, especially at weekends….
 I have a no rush policy on the weekends, so I refuse to be either hurried or be in a hurry.  I try never to agree to meet anyone for anything before 10-10:30. Generally, I can't stay in bed much after 7am (which feels like a bit of a lie in

really anyway

!).  Then it's downstairs in my dressing gown and slippers for coffee either in the garden if it's warm enough or at the kitchen table if not.  I love to light a

yummy scented

incense stick by

Astier

de

Villatte

,

Dehli

is the flavour I prefer best.  It somehow transports me to another place far

far

away and feels like such a treat.  I quickly settle down to my tapestry which seems to cure me of that awful sense of flatness I often suffer from at the end of

a

long work week.   Then it is always a walk along the River with Wafer, winding my way through Chiswick House Park and Turnham Green Terrace where I stock up on weekend groceries and supplies. 
Do you have any other calming  rituals or is it simply the power of nature for you?
A spot of gardening and walking manages to fix most things that ail me. 
Do you have a favourite season? 
I couldn't possibly choose one over any other, they all hold such vitality and richness with the promise of forthcoming change!
It is often said that the backbone of gardening begins now – when we plan for the Spring. What should we be thinking about?
I do think Autumn is the best time to instigate any form of alterations that are required.  I try to lift and divide any big clumps of perennials (I have quite a few oversized mounds of Crocosmia that are shouting at me from the borders!) and I tackle the climbing roses along the boundary edge.  It's a good time to get in there once everything begins to retreat back into the ground.  I also feel it's very important not to tidy the borders up too much this time of year, as the collapsing perennials, grasses, and fallen leaves provide an excellent source of food and shelter for a myriad of insects and invertebrates.  I do, however gather the fallen leaves up off of my lawn and put them in hessian sacks to break down over winter.  I tend to cut everything back including my wildflower meadow early in the new year and then I give the borders a thick layer of organic mulch.  This helps to keeps moisture in, weeds out, and prepares the ground and plants for the best possible start to the growing season. 
How important is resting for gardens over the Winter, as well as the importance of rest for you? 
Rest is so critical, once the bulbs are in, Christmas preparations take top priority until mid January.  I always pray for freezing cold bleak weather so I can rest and enjoy the world indoors.  I am hopeful for some grisly foul weather this coming year.  I think the roses were at there very best this summer because we had a properly cold snap and then a lovely wet spring.      
Before you were a garden designer, you worked as an interior design assistant for Colefax and Fowler – what did you learn about creating beautiful bedrooms and do you find joy in the simple pleasure of a well-made bed? 
| | |
| --- | --- |
|   | I love interiors and design as much as I love the world of outside and garden design.  My bedroom is quite simple with plain oatmeal coloured linen curtains edged in a cream pompom fringe, the walls are painted in Wattle III by Paint and Paper Library which is a very pretty pale green-grey colour.  It feels quite restful and calm and quite different to many of the brighter busier rooms in the house!  My favourite colour green does make a subtle appearance here by way of my bed valance which is in Rapture and Wright Daisy-Chain Green and my slipper chair is covered in Moorish-Maze Palm.  Clean sheets and a well made bed bring me more joy than is probably normal, but then I never ever pretend to be the least bit normal. |
Butter is wearing the Red Striped Robe and the White Oversized Nightshirt 
Visit: WWW.BUTTERWAKEFIELD.CO.UK or @butterwakefield
---