Hot Cross Bun French Toast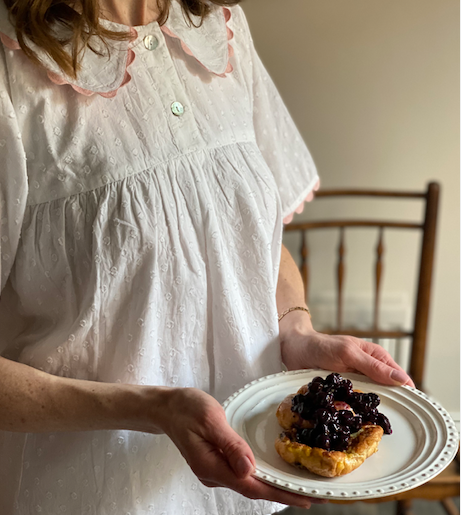 My friends have always laughed at but also I would say "adopted" my love for a breakfast pudding.  What can be more exciting than starting the day well with a sweet treat following your usual savoury branflakes course. I particularly like to follow this mantra on special occasions and with Mother's Day around the corner, this could be a really lovely treat to spoil your Mum. French Toast is definitely up there on my list of "go-to" breakfast puddings and when I spotted Emily Jonzen had created a hot cross bun variety for The Home Page I thought it sounded too good not to try.
Ingredients
2 medium eggs
2 tbsp milk
1/2 tsp vanilla extract
2 hot cross buns
Sian wearing the White Peter Pan Short PJs 
Method
1. Whisk the eggs, milk and vanilla extract.
2. Split the hot cross buns in half and soak them in the egg mixture.
3. Heat a pan and add a dash of butter. Cook the buns on each side for a couple of minutes in the frying pan until they are bubbling. 
You can then add your favourite compote. I followed Emily's advice with a delicious blueberry topping...
Tip 125g blueberries into a small saucepan and add half of the orange zest and all of the juice. Add 15g of icing sugar and place over a low/medium heat. Allow to simmer gently for 5-6 minutes, until the blueberries are beginning to break down and are syrupy.
---