In Conversation with Ellea Whamond - co-founder of 100 Acres bath and bodycare products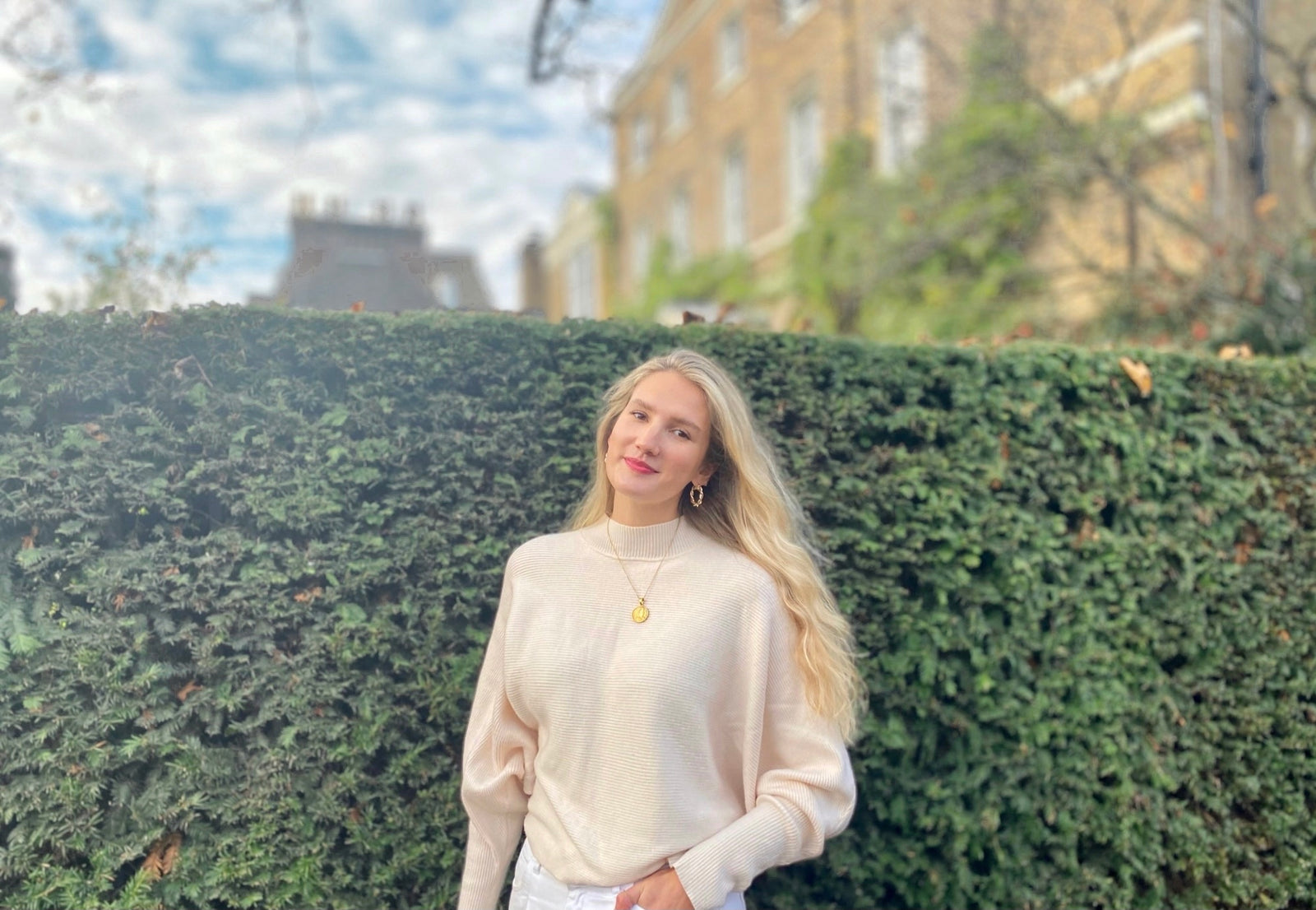 Ellea Whamond has co-created the most beautiful and heavenly bath and bodycare products - 100 Acres, you may have spotted them in some fabulous hotels around the UK. I chat to her about how the brand has evolved and how she relaxes in her downtime...
Tell me a little about 100 Acres and what inspires you...
 We started 100 Acres because we wanted a way to bring the refreshing, fragrant British countryside into people's busy everyday lives. As co-founders, we adore the countryside (we're both countryside natives, originally). The endless green space, the fresh air, the sprawling meadows and the abundant botanicals, wild foliage and flora that occupy virtually everywhere you look. It's heaven. We still absolutely spend weekends in the countryside when we can - outdoor picnics, wild swimming, lazy Sunday strolls, sunset alfresco suppers – a weekend in the countryside really is a tonic like no other, we find. 
 But, as life gets busier and faster, most of us can't spend all of our time frolicking and relaxing in the countryside (as much as we would really love to!). Most of us stick to the occasional weekend countryside escape, if that.  
 So, this is where 100 acres comes in. When someone uses a 100 acres product, we want them to take in a deep breath of our product, and we want the fragrance to instantly transport them – even if just for a few seconds – to the fresh, fragrant air of the British countryside. A countryside escape in a bottle, I like to call it – even if just for a five-minute shower before work on a Monday morning, or for thirty seconds on a Wednesday afternoon (thanks to the 100 acres hand cream on your desk). For when you're not able to actually be reclining in 100 acres of heavenly British countryside, hopefully our products are the next best thing.  
What did you do before launching 100 Acres?
Before I got into 100 Acres, I'd just finished a degree and was getting into a law career, because I'd always just thought that law was the right thing to do, and I did find some aspects of it really interesting. But, I then met Georgie, totally by chance – we just clicked and had such a lot in common. She introduced me to 100 Acres and eventually asked me if I'd like to run it with her (obviously, it was much more long-winded than that in reality!). For me, 100 Acres embodies all of the things I've always adored but didn't quite know how to bring to life through something tangible - the countryside and an obsession with all things luscious and fragrant and botanical, with a sprinkling of travel, art and design too.  
How has this year been for you and what plans do you have for the year ahead?
It's been a challenging year, no doubt, as it has for everyone. But really, we've been incredibly lucky - I mean…we sell hand wash. Our supply chain has been ok, and all of our amazing partners have worked immensely hard to keep things going. So, while it's been a very challenging year, we're so grateful to have got through it, and it's really made us reflect and feel so incredibly proud of what we've built.  
 For the year ahead, we have some very exciting things planned – we're looking at new developments both brand and product wise, and also will be ensuring sustainability credentials are as good as they can possibly be – we're always thinking of this and it factors into every decision we make, but we know there's always room for improvement. 
What makes 100 Acres so special?
Ultimately, I think what sets us apart is our purpose and how we want to make our customers feel. We exist for something more than creating and selling products – we genuinely want to bring a little of the British countryside to our customer; whether that's for an hour-long bubble bath on a Sunday, or a two minute weekday shower.  
That being said, what goes into our products is crucially important too.  
 In terms of fragrance, when we're testing and finalising our fragrances, we always ask ourselves "is this truly exceptional – like anything we've ever smelled before?" and of course, "does this smell like what we think 100 acres of countryside smells like"? Our fragrances are rich and distinctive. In each fragrance, we include over ten botanical fragrance notes and use the absolute maximum fragrance allowance, because we want our fragrances to truly reflect the luscious, abundant countryside that we're trying to capture. Our fragrances are recognisably '100 Acres'.  
 In terms of what's inside the product, we pull out all the stops to ensure our formulations are the absolute best they can be. We only use all-natural botanical ingredients, all of the highest quality we can source. But to be honest, we think this should be a given now – all-natural, high-quality ingredients are something that customers (us included) now demand by default, and we feel a huge responsibility to ensure what goes on our customers skin is genuinely necessary, nourishing and beneficial. We adore our customers and want to create only the very, very best for them. 
 So like I said, I think what sets us apart is our integrity and commitment to our purpose. We want our products to transport the customer to the countryside, and in doing this, create fragrances that a) smell like the countryside, b) reflect the countryside in all-natural composition, and c) are made in the countryside too. Nowadays, customers only want brands on their shelves that are clearly value conscious, and reflect their own values too.  
What wellness and self-care rituals do you practice?
Such a good question! I really think it's so important to keep wellness and self-care in mind daily, otherwise it's so easy for things to run away with you and before you know it, you've burned yourself out. For me, it's all about the little things. A walk or run in nature, without fail, every single day. This seems small but is so good for talking things through, gaining perspective and clearing the head. 
 Another thing that does wonders for my mood is flowers and foliage – bringing anything from the outdoors, indoors. Typically, that means flowers on my desk, kitchen table and bedside table. And it doesn't just have to be flowers – I love all sorts of foliage, small branches, herbs – anything that's seasonal, and the more fragrant it is, the better. And they don't have to be perfectly arranged either - I personally favour much more wild, natural arrangements (à la Willow Crossley, Rowan Blossom). The absolute best thing for me is having a small vase of fresh, fragrant flowers, botanicals, foliage and herbs on my bedside table, as then it's the first thing you smell when you wake up.Heavenly. 
The final thing I do, which again is tiny (you're going to think I'm mad!) is just ensuring I moisturise my body after a bath or shower. This is so small - but take three minutes just to moisturise your skin after a shower and you'll feel like you've had a few moments to breathe, slow down, and connect with your mind, plus it's obviously so good for keeping your skin nourished and looking good, too. I always use our 100 Acres Body Lotion, or recently actually have been reaching more for our Invigorate Bath & Body Oil – it smells sublime and sinks in beautifully on damp skin.   
What tips would you share to others who are looking to set up their own brand?
I'm still absolutely learning in this sense and am always looking for tips myself! But so far, I think there's one really, really key thing that you can't start a brand without.   
Have your purpose or reason for existence really sorted in your head. Know this like the back of your hand, otherwise it's hard to really do anything or go anywhere – you need this to guide you. Have this not only from a brand perspective, but also a customer perspective – from your customer's perspective, why do you exist? How do you offer them something that they can't get elsewhere? If you have this nailed, it's easy to get out of bed every morning, even when things are piling up and it feels like an uphill battle. 
And finally, how do you relax?
After a long day, cooking is how I unwind. I love the method of it, and how if you do one thing (i.e. follow a recipe), you're pretty much guaranteed to have good results within a short space of time. I think often when you're building a brand, it can sometimes feel like you're stabbing in the dark a bit – there's no guarantee that what you're doing is going to work or have the intended results. So, I love the creation–result dynamic of cooking. My partner is actually exactly the same…so we have been known to bicker over who's head chef that evening (which I know is the most ridiculous thing – how lucky we are!). 
 And last but not least, again, simple but - a walk in the countryside. Sounds clichéd I know and like I'm plugging my own brand, but I really don't think there's anything as refreshing and perspective-grounding as a stroll among trees, aromatic plants, across hills. Which is why we started 100 acres after all – it's a little slice of that refreshing, grounding countryside air - that countryside calm - bottled for the moments when maybe you're not able to be there. So I suppose you probably can't expect anything different from me…!  
---