Sleep easy on cold nights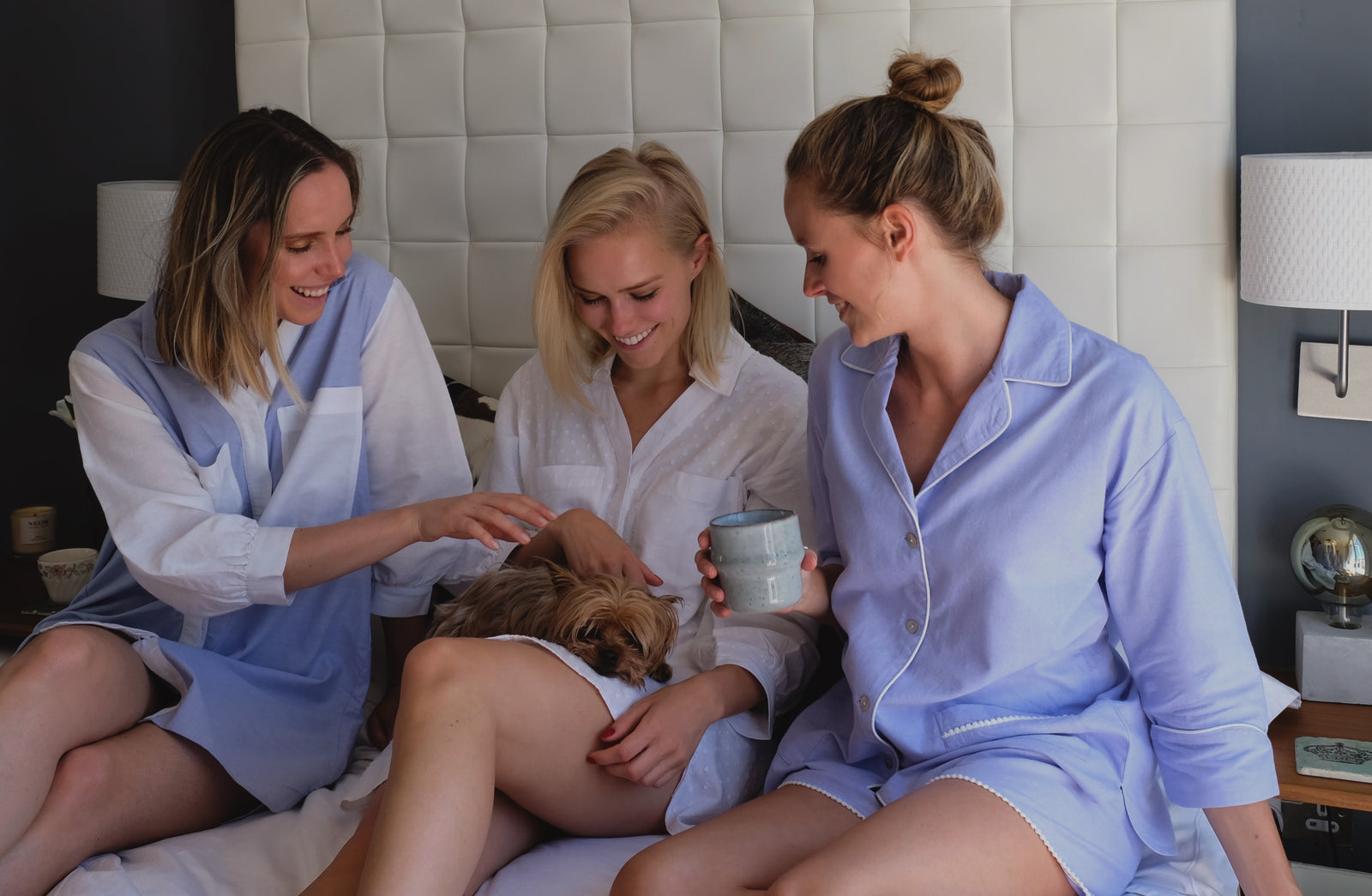 Zsanett (left) wears blue oversized nightshirt, Sara (middle) wears white oversized nightshirt and Annabell (right) wears blue shorty pjs.
After the most amazing long-stretching Summer of scorching days and balmy nights, we were a little excited when Winter arrived. Thoughts of hearty suppers and hunkering down to a good book with a cup of tea was rather appealing.
Winter gives us the chance to slow down slightly, we suddenly have the excuse to stay in when we've got to catch up on the latest I'm a Celebrity Get Me Out of Here episode.
This Winter we are trying to perfect our bedtime ritual so that the dark mornings seem less of a chore and a good night's sleep is now higher on the agenda than the demands of productivity.
Here are a few of our tips to befriend our long lost friend - the King-Size (bed) and selfishly proclaim the 8 hours needed:
Close down into your nightwear a little earlier to tell your brain it's time to switch off.
Light candles to create a soft warm glow. Our favourite at the moment is True Grace, Moroccan Rose.
Create a phone-free zone. We need to be in a calm headspace before we hit the pillow but often minutes before bed, we are scrolling on our phones or watching the news; which has the opposite effect and can raise anxiety and stress, as well as create the brain's "fight" or "flight" response.
Run a bath – studies have shown warming our bodies before bed can help us feel sleepier. It is best if you time the bath an hour, to an hour and a half before bed; as you cool down, the Circadian rhythm is signalled to begin making you sleepier.
Spritz your pillow with a pillow spray, have you tried Perfect Night's Sleep Pillow Mistfrom Neom?
Consider switching to a slightly heavier tog duvet as the season changes and the nights get colder. The increased weight may help to provide a more secure, comforting feeling to help you drift off.
Final touches – treat yourself to a pair of new pjs. We have two new styles this winter – blue long chambray pjs with velvet trims, for ultimate luxe lounging, or delicate white dobby long pjs with metallic trims.
Left - Blue Long Pjs with velvet trims.   Right - White Long Pjs with metallic trims.
---